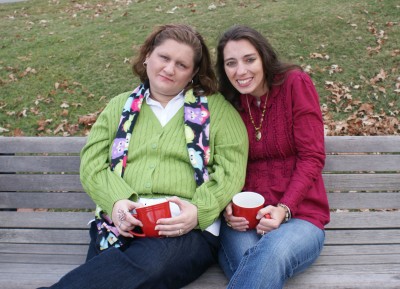 BirthMom Buds was founded by two birthmoms, Coley Strickland and LeiLani Wood, who found each other shortly after they each placed their babies in open adoptions.
Sleepless one night, not long after Coley's baby boy was relinquished, she was on the internet, searching for web sites to help her deal with her grief. She was not having much luck until she stumbled across an "Is anyone out there?" post on adoption.com. She read Lani's words and saw that Lani had placed a baby in an open adoption just a few days before Coley's baby was born. Coley emailed her and they began chatting on the computer. They realized they had so much in common. Lani's baby was born on Coley's birthday. They only lived a couple of hours away and Lani lived in the same city as Coley's grandmother. Emails led to phone calls and phone calls turned into visits. At first, all they talked about was adoption, but as time quickly passed they began sharing details of every aspect of their lives with each other and now are truly best friends.
Together, they helped each other deal with the emotional rollercoaster of being a birthmom. Together they created BirthMom Buds, and together, they would love to help you.
Coley and Lani are both birthmoms, but their stories are completely different! Read their unique stories below.
Coley's Story
It was May 2001 and I had just left the health department. I felt like a failure for the second time in my life because I was single and pregnant.
My story actually begins back in 1996, when I got pregnant for the first time at 18 years old. I forced myself into a loveless marriage because I thought it would be the best thing for my child to have two parents living together. Noah was born not long after I turned 19. He had a lot of complications at birth and was diagnosed with cerebral palsy and epilepsy. Later autism was added to his diagnoses. His father and I had married for all the wrong reasons and the difficulty of parenting a child with special needs was more strain than our marriage could handle. We split up.
After the split, I began dating around and saw someone off and on for a few months. We realized we did not want the same things out of life and moved on. We had been intimate, though I thought I had nothing to worry about since I was on the Depo-Provera (birth control) shot and it was practically fool proof. Boy was I surprised when I took a routine pregnancy test when I was getting my shot. The test was POSITIVE!! I knew I wasn't ready financially, emotionally, or physically to be a Mom again at that point in my life.
I immediately made an appointment with an OBGYN to find out how far along I was. I stared in disbelief at the screen as the ultrasound tech told me I was nearly five months pregnant. "How could this be??" I wondered in dismay. I was automatically considered a high risk pregnancy due to the complexity of my pregnancy with Noah and his subsequent birth. I was overwhelmed and afraid. I knew immediately that the guy from months before was the father of this baby and we had gone our separate ways.
I was involved with someone special, J, who I sensed would be a part of my life forever. When I first found out I was pregnant I tried to break up with J. It is hard enough for a man to love a single mom to a kiddo with special needs without adding a baby to the scenario. But J surprised me and said he would support whatever choice I made. I had contacted the bio dad and he pushed for abortion. He didn't seem to care that I was already 5 months along. I suggested adoption and he did not like that option because "he did not want junior showing up on his doorstep 18 years from now." I didn't know what I was going to do. I was simply taking things one day at a time, trying to let the fact that I was pregnant sink in. I was in denial and I knew I had to accept reality and begin making plans for my unborn child very soon.
Not long after the first ultrasound appointment, I was at the Tex Mex restaurant where I had been waitressing for awhile when one of my regulars, Alice* and her husband Sam*, came in for lunch on a slow day. For some reason I mentioned to them that I was pregnant. They congratulated me and I explained to them that it was unplanned and that I was even thinking of adoption. Sam and Alice told me how their daughter was adopted in an open adoption arrangement. I had always assumed she was their biological daughter. Alice briefly explained open adoption and gave me her phone numbers while telling me I could call her anytime to just talk or ask questions about adoption.
The next day I called Alice. She explained open adoption, at that time a foreign concept to me, in greater detail. The idea of being able to place my baby in a stable two-parent home yet still maintain some form of contact was appealing. She invited me to come over to their house for dinner one night so I could get to know them better. As we all sat around the table after eating, casually chatting and playing Candyland with their daughter, I knew in my heart that they were meant to be the parents of my baby. Our adoption agreement had begun. Alice started accompanying me to my doctor appointments and we all began spending more time together.
That doesn't mean that this was not hard. Knowing that I would be bringing this baby into the world, but then handing him over to another family was extremely hard. I tried to think of him as Alice's baby and not mine as a defense mechanism so that when I went home empty handed maybe it would not hurt so much. I was trying so hard to be strong and follow through with my adoption plan.
Our son, fondly known as Charlie, entered this world 4 weeks early in September of 2001. He was healthy, yet small, and loved by both his birth family and adoptive family! I spent three days holding him and talking to him in the hospital. I told Charlie that he was doubly blessed by having a birth family and an adoptive family that both loved him dearly.
Since we had planed an open adoption, I held on to the fact that I would be doubly blessed as well. I held on to the knowledge that I was doing the right thing and would get to see my son grow up over the years. I still emotionally struggled after his birth. I was grieving for the child I lost who was the same child I willingly gave a better life. I felt as if no one else in the world understood what I was feeling. I was desperate for someone who could understand.
Sleepless, I came across an "Is anyone out there?" post on adoption.com written by another birthmom named Lani. I instantly replied and we began chatting via email. The similarities were amazing. Lani lived in the next state and in the same city as my Grandmother. Her baby was born on MY birthday, just 4 days before Charlie's birth, and placed in an open adoption similar to mine.
At first all we talked about was adoption. She understood what I was thinking before I could even get the words out of my mouth! Our friendship is about so much more than adoption now. We are truly best friends as close as sisters, sharing all parts of our lives with each other.
As we began to watch our children grow from a distance, we tried to move forward. We both knew without each other our postpartum grief would have been so much more difficult, and we didn't want others to have to search for a friend that understood. Together Lani and I started BirthMom Buds in 2003 based on that principle. Our organization provides birthmoms with an outlet, a way to meet other birthmoms, a means to begin healing, and more.
Besides my work with BirthMom Buds, I have enjoyed becoming active in the adoption community and have shared my story with others in books, newspaper articles, magazines, and on radio talk shows. I've mentored girls who were pregnant and placing their children for adoption, I've moderated forums, and written many articles about adoption.
I still maintain contact with Charlie and his adoptive family and he has grown into a bright and handsome boy who is very confident in himself. I attribute that partially to our open adoption. He knows that he is adopted and knows that I am his birthmom.
It's been a hard road at times but my good days outweigh the bad. I have also learned the pain will never totally subside, there will always be a little hole in my heart but I hope that others can learn from my experience and that newer birthmoms may have some hope that there is life after relinquishment.
I still believe that Charlie is doubly blessed, but I believe my life is doubly blessed as well. Being a birthmom is bittersweet but because of adoption, I have had the privilege and pleasure of meeting and getting to know many birthmoms that I never would have had the opportunity to meet had I not chosen adoption.
Charlie, Coley's son.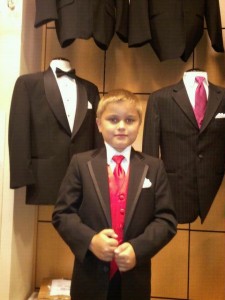 *Names have been changed to keep their anonymity.
LeiLani's Story
My family and I reside in Georgia. I have a wonderful supportive husband and two sons. One son I had before placing my daughter for adoption and the other after she was born and relinquished. I had all three children with my ex-husband. God knows the plans he has for me and this was one of his……
In July of 2000, we decided to have a child for friends of ours that could not conceive on their own. God placed this on my heart suddenly, after Chris* and Tonia* went through a painful and tragic miscarriage yet again. Weeks earlier I had been praying to God asking Him to do something big with my life. This was not what I had in mind. I was thinking more along the lines of joining the Senate (ha ha) or volunteering at a hospital. But it seemed God placed this in my path.
When I went to my husband with the idea of helping Chris and Tonia have a child, at first he asked if that meant me being implanted with their baby. In other words he thought I was going to be a surrogate. I told him no. That would cost too much and the risks were too high medically. Knowing we could conceive children and not have all the added cost and oddness of it all, I thought having our own would be better. The following week we had a meeting at their place to figure out some of the logistics of the plan. Since this would be mine and my husband's child, we would relinquish the baby to them in an adoption at birth. During the pregnancy Tonia would go to all pregnancy doctor appointments with me.
Things were set into motion but a lot changed in between the time I got pregnant and the time our daughter was born. We got to work right away, although it took 7 months to conceive. I began working at Tonia's school as a pre-kindergarten teacher as she thought the job I was currently doing was too strenuous for me and would not be good for the baby. I thought it would be nice since we could be close and she could be there throughout the pregnancy. I found out I was pregnant while on my lunch hour. I came back excited and called the front office. I tried to tell her I wanted to get together with her and Chris but she ended up getting it out of me and we cried and talked together. She said she wanted to tell Chris on her own.
Things then started changing between us. She became distant and I never saw Chris around. She always had excuses for not being able to go to the doctor with me and why all of us could never seem to get together. I was beginning to feel like I was in a game or soap opera. She had become so extremely desperate. I noticed lots of things happening in her life. I was noticing things that no mother should do. I won't air her dirty laundry.
This all led my husband and me to the decision to tell her we could not let her adopt the child we were carrying. I found out that day God used our friends, Chris and Tonia, as a pawn in his plan. I believe He knew without using someone close to us that we would not have gone through with any of this. We decided we would parent the baby and were especially excited when we found out the baby would be a girl. Deep down, I felt a tug saying this was not the way it was meant to be. But being selfish and always wanting a daughter, I said it was the thing to do. I was not aware that my husband also had a tug on his heart saying "this is not what I told you to do". He began to share with some of his clients about the way things turned around on us. He had one client whom he knew very well that just had triplets through fertility treatments and she shared about the pain she felt when she thought she would not be able to conceive. She then told him of a good friend of hers that could not conceive again after having a child through egg donation who was born very early. This friend of hers wanted to adopt more children. The woman told him if we decided to still bless a family with this child to hang on to their number and call her.
When my husband came home and gave me the number of this family, I knew he had some of the same feelings that I did. We had set out to bless family that could not have a child and that was our prayer when we got pregnant, so deep within we felt that was God's plan and the prayer He answered the day we found out we were pregnant. Some time went by and our lives were slowly spiraling out of control. I was still holding on to the feeling I wanted to keep her, but then one night it hit me while I sat crying on the porch that this was God's gift for me to carry and that He would use this gift to bless someone else. Somewhere out there was a family praying for this child too.
So I made a call to that family. When I called the parents-to-be, I spoke with a man. He was in shock and told me his wife was at church. You guessed it. Turns out she was praying for a child at about the very moment I called. It was so amazing. They flew down to meet us and it was as if I was meeting the people in my head. It never felt strange or awkward at all. We just knew.
We now have an open adoption. I receive pictures, we email and send gifts, and when my daughter and her family come to town, we all try and get together. I am so blessed to have her family in my life and raising our beautiful girl. I could not ask for better.
But sadly enough as happy as I was with the decision I made, there are still times of pain. Your heart is tearing in two directions. On one hand you're happy with the gift you've given your child and a family filling their arms with love but on the other hand, you're hurting from empty arms of your own. There were many times I screamed and cried out, "Why did I have to do this?"
When the pain was so much that I could not see straight I went online, typed adoption into my search engine, and found a forum on adoption.com where I left an "Is anyone out there?" post. That's how I met Coley. She is very special and important to me. Our little girl was even born on her birthday. We have formed a great bond, and it's one for which I could never thank God enough. We have become best friends and she is truly the sister He let me pick. She and I both placed within days of each other. I needed a friend that shared in my pain. We have a silent bond, knowing that tomorrow is not just tomorrow anymore. Everything is different. I stopped looking for normal again and learned this will be my new normal. I will forever be a birthmom. Coley helped carry me through the hardest days. We leaned on each other for support and together we decided no one should have to go through this alone. We had a burning passion to help other birthmoms find each other and created BirthMom Buds. I feel this was one of God's greater purposes in my adoption journey.
I still have bad days when I see a blonde haired, blue eyed sweetie and I miss mine so, or sad times like when I see new pictures of her and hear how she is like me in so many ways. Those are the times I miss being there but I also find joy in the life I gave her.
My journey in adoption is far from over. I am blessed whenever I meet a birthmom and it has become one of my life's missions to raise adoption awareness, change some of the legal aspects of adoption, and help birthmoms obtain better support both before and after placement.
I hope my story helps you to see that not all adoptions end in pain. It is what you make of it. I am not one to look back at the past but to learn from it to better my tomorrow.
 Lani's Daughter, Kinsey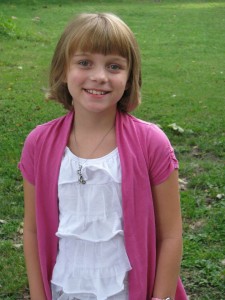 *Names have been changed to keep their anonymity.