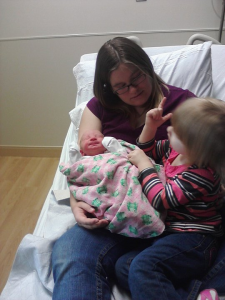 My name is Amber. I'm 22 year old and live with my daughter, my fiance, and our black lab, Sadie. I work as a material handler, and I chose an open adoption for my second child, who was born in 2011. Between working, being a Mom, and planning a wedding, I don't have a lot of time for hobbies, but when I do I enjoy reading, writing, going to the beach, and taking road trips to exciting places.
My Story…….
It was 2010. I was 20 and pregnant with my second child. I had recently ended a relationship with my kids' Dad, which had been plagued by physical and emotional abuse. While trying to heal from the pain of that, I was working part time in a restaurant, going to college, and battling to not only pay my bills, but also raise my two year old with no help from her father, I took my first step into an office at Bethany Christian Services when I was 14 weeks pregnant.
The weeks flew by. I met once a week with the pregnancy counselor at Bethany (who was excellent, I absolutely love her!) and, after much deliberation, finally settled on adoption. In December of 2010, I began looking at profiles of couples waiting to adopt. In total, I believe I may have saw nine of them. From there, I was able to narrow my daughter's parents down to two couples. I brought these books home and examined every inch of their profiles. Choosing someone that you trust enough to raise your child, based on photo's in a book is NOT an easy task! Finally though, I did it.
We met in January of 2011 and I hit it off with my daughter's adoptive mother immediately. Her Dad though, was a different story. While I did think he was a "nice guy" he was pretty quiet at our first meeting, and I wanted to see more from him so, while it may be a little unorthodox, I arranged a meeting at Bethany between him and myself. It gave me an opportunity to get to know him better, and made me feel like I was 100% confident with my decision. Prior to the birth, I got together with my daughter's adoptive family several times. We went out to eat a few times, we went bowling once, and by the time I went into labor, I love them.
On March 23rd, I had my beautiful daughter. Her adoptive Mom was in the delivery room, cut the umbilical cord, and referred to the whole ordeal as "something she thought she would never be able to experience in her whole life." Her gratitude and love for me were stronger at that moment than I had ever felt from anyone. It was there that I also learned of their desire to give my birth daughter my middle name (which also happens to be my Mother's, Grandmother's, and daughter's middle name). That gave me the extra bit of confidence that I needed to follow through with my plan. With that, they assured me that, no matter what happened in the future, the actions that I made on that very day, would never be forgotten. While in the hospital, I spent several hours with my birth daughter. I introduced her to her sister, held her, and cried a little (OK, a lot).
I left the hospital 24 hours after giving birth which was, without a doubt, he hardest thing I have ever done. I remember getting home from the hospital and feeling like the biggest failure. I felt like I had abandoned my daughter, and all I could picture was an infant, my infant laying in the nursery crying, with no one to take care of her (even though I knew that wasn't the case). Needless to say, I didn't sleep that first night. Or the second night.
As the nights passed though, things got easier. I continued my counseling, I went back to work, and I focused on being the best Mom I could be for my daughter. I saw my birth daughter once a week for a while, then once every two weeks, and now we get together as much as possible (which isn't as often as anybody would like since I work 2nd shift and they both work 1st). My birth daughter is 1 and a half now, and she is growing up in a wonderful home, with wonderful people, and a wonderful extended family…and I am at peace with that.
As for myself, after following through with my adoption plan, I got a good full time job, I bought a brand new car, and I met a man. We will be getting married in a few months, and my daughter's adoptive Mom has agreed to be my Maid of Honor. Now that I have gotten through the loss of placing a child through adoption, I have been able to focus on the fact that I have gained a new extended family (my child's adoptive family), and I wouldn't have it any other way.