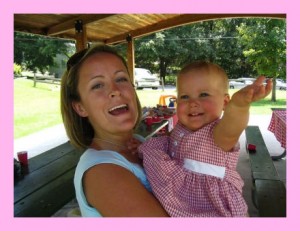 Hi! My name is Blair Buckler! I am 24 years old and live in Atlanta, GA. I recently left my job as an interior designer to go back to school to get my masters in Community Counseling. I will start back in the Fall of '06 and will hopefully be able to counsel birthparents before, during, and after the adoption process. I have a sweet Dalmatian named Cosmo who is like a second "daughter." In my spare time I enjoy hanging out with my boyfriend, Michael (Elisabeth Grace's B-father), knitting, designing my own jewelry line, and going to concerts (especially the Dave Matthews Band.)
May 15, 2004 is a day that I will never ever forget! I had just turned 23 and just graduated college. I was so relieved to have the stress of college over and done with. I was ready for a new chapter of the REAL WORLD to begin.
I had been really stressed with my last semester of school and seemed to have gained a little bit of weight. My parents were getting concerned and had spoken about it to me on several occasions. I reassured them that I had been working out but had been stressed and not necessarily eating correctly. Well, on the morning of May 15, my mom approached me and asked me to take a pregnancy test. I FREAKED out!!! I did not want to have to face the consequences. But I took it anyway. And of course the test results were positive. I was soooo scared. I immediately called Michael, my boyfriend, and he left work and came over. He was so extremely supportive through the whole process!!!! He loved rubbing my belly and telling me how beautiful I looked as a pregnant woman. The following day we went to the doctor to have tests done to confirm that, yes, I actually was pregnant. I had no idea what I was going to do. My nurse practitioner took me into her office and sat my mom and I down. She told us that when she was 18 and a freshman in college she had gotten pregnant and placed her son for adoption. This was not the first I had heard of adoption but this was the first thing that fell into my lap regarding my future decision. She told me that it was a very hard decision but now that she looked back on it, it was the best thing she could have done for him. I had no idea how far along I was and they were not able to do an ultrasound at that appointment.
They sent me to a women's clinic later that afternoon to have one done to determine how far along I was. My mom, boyfriend, and I drove over to the clinic. I was scared out of my mind. I had never been to a women's clinic. We weren't able to bring any bags inside which scared me to death. I finally had my turn and was able to get my ultrasound. I was sooo scared and couldn't stop crying. The tech looked at the screen and determined I was 26 weeks…TWENTY-SIX WEEKS, I thought…that is…SIX & A HALF MONTHS!!! I was freaking out!!! The next scariest thing was telling all my girlfriends about what was going on. We had planned to have a graduation/birthday party at my friend's house for all the birthdays and people graduating that May. Of course, everyone was drinking and they did not understand why I wasn't. I took them all in a room together and told them Michael and I were having a baby and that we were planning on placing it for adoption. After about 2 seconds of silence (which felt like 2 hours) they all started screaming and were so excited for me! They all wanted to rub my belly and were just soooo happy!!! After this, adoption just started to fall into my lap. Michael had been adopted at birth through a closed adoption. Neighbors down the street had adopted 2 young boys through an agency close by. All my sources started coming to me. Michael and I visited 2 agencies. Bethany Christian Services and the one his mom had gone through to adopt him. I felt more comfortable and at home at BCS and chose to place with them. My counselor was fabulous and the support group they offer was more than wonderful. I chose my adoptive parents about a month before she was born. Michael was so scared to meet them and had no idea what we would talk about with them for an hour, but we were in with them for almost TWO!!! They were the most wonderful people and had already adopted a 4-year-old son. I knew that I wanted her to have a sibling and the fact that they had adopted and had such a wonderful experience with it and wanted to do it again was such a great sign.
I was due on August 20 but in the weeeee hours of August 13 my water broke (3 am to be exact). I had no clue what was going on so I called my boyfriend to prepare him. Then I went downstairs to tell my parents. Contractions hadn't started yet so we wanted to wait to see if was the real thing. They started shortly thereafter and came quite frequently. We prepared to go to the hospital and Michael practically FLEW over to my house. We arrived at the hospital around 6am and were put into a room around 7am. Contractions kept coming fast and hard. I was very uncomfortable and wanted drugs so bad. But the anesthesiologist never called back. I felt like the baby was going to fall out. In a matter of 30 minutes I had dilated from 5-10cm. I gave birth to Alexis Grace (birth name) at 10:16am with NO DRUGS!!!! What an experience!!! Bradley & Shari (a-parents) arrived the following day to visit with my family and friends. It was such a crazy experience!!! But such a wonderful and memorable one!! My hospital stay was such a wonderful experience. I had my daughter in my room with me the entire time along with a constant stream of visitors from the time I arrived in my recovery room. I changed her, fed her, woke up with her, went to sleep with her. The second night I was there, Michael spent the night. We were up alllll night with our daughter and that right there made us realize that we were not fit to be parents. Leaving the hospital was extremely difficult. In my hospital plan I decided I wanted to leave before she did. I didn't want to see her leave before me. Michael and I were bawling the entire drive home. Those first few days were extremely hard!!! I felt so confused and sad. But after a few days I started getting up and moving around and doing things slowly but surely. A month after my daughter was born I had a visit with her family. That right there opened up the relationship between me and them. Over time we have established direct contact and have email contact with each other on a monthly basis. It has been a most positive experience for everyone involved and I wouldn't take it back for the world. It has also made me realize that working in adoption is the right path in life for me. That is why in the fall of 2006 I plan to go back to school and get my masters in community counseling and hopefully give back to other birthmothers and birthfathers through counseling and support.